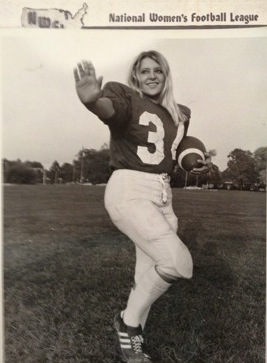 2021 is showing itself to be quite a record-setting year. The first woman referee joins the crew who officiate the Super Bowl…Super Bowl LV. This is an important milestone in sports. Down judge Sarah Thomas is the first woman to officiate a Super Bowl. She is also the first woman to officiate any NFL game. This is an important milestone in sports.
Personally, I really care about this eventful competition. From 1971 to 1973 I played Women's Professional Football for the Toledo Troopers (Middle Linebacker, #34 see photo) We women who played tackle football, according to NFL rules were deemed pioneers and trendsetters. There's much more to say here, and I'm in the process of writing the story.
The trends are being set again! And, history is being made.
The Tampa Bay Buccaneers will play the Kansas City Chiefs in their own stadium in Tampa. This is the first time a team has played a Super Bowl in its home stadium.
Speaking of "home". Tampa was my home for 40 years. It's where I lived when I graduated from Stetson University with a Juris Doctor, practiced law in the State and Federal Courts, sailed and scuba dived. And, most importantly where my son grew up.
This note of honor, recognition, and commitment to excellence is written before Super Bowl LV. Congratulations to all who are involved in setting a positive trend in our world.