7 Laws Of Inner Peace – New Video
Highly Anticipated Workbook now available!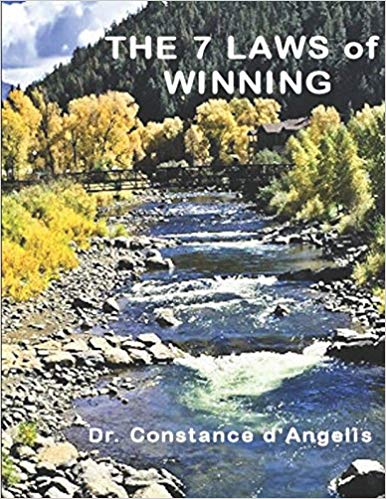 "The 7 Laws of Winning"
by Dr. Contance d'Angelis
FOR A LIMITED TIME AT A VERY LOW COST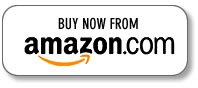 The Little Book with a Big Message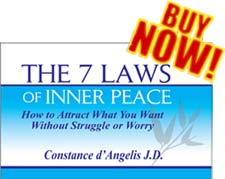 WINNER, Writing Award in Philosophy/Sociology!
What are the effects of applying the 7 Laws of Inner Peace?
Law of Unity: Attract more cooperation from others.
Law of Perception: Rid yourself of unconscious limitations & tap into your genius.
Law of Cause and Effect: Avoid what you don't want and enhance what you do want.
Law of Alignment: Feel the flow and harmony of what you love in your life right now.
Law of Mental Attention: Reflect your inner beauty in your outward appearance.
Law of Giving: Engender love, compassion and appreciation for yourself and others.
Law of Freedom (Redemption): Believe in yourself; transcend judgments of yourself and others.
What's Your Level of Inner Peace?
Take the Inner Peace Awareness Quiz and find out!
TAKE the QUIZ
 "You can read the book in an hour, and it will last you a lifetime."
— Deborah Bevilacqua-Stork, RScP, Co-Spiritual Leader, Positive Living Center, Daytona Beach
 "I love this book! This practical guide to achieving peace in today's challenging times fits in your pocket or purse."
— Kathleen Zurenko, RScP, Life Coach, Author, Speaker
 "Through The 7 Laws, I discovered the power to transform my life with courageous focus. Constance inspires with humor, wisdom and insight."
— Krista Williams, M.A. in Special Education, Author, Nat'l Certified Massage Therapist
"A little book with great impact! The 7 Laws of Inner Peace is a guide to expanding and balancing your personal power so that your greatest hopes and dreams can come true. The writing style is simple and easy to follow. The key points, benefits, personal stories and the spark questions help reinforce the concepts. Buy several copies and give them as gifts."
— M. J. Hochman, Attorney-at-Law
"Breathtaking!!! This book is absolutely a breath of fresh air. I could not put the book down. I have read numerous books on healing souls, heart break and dealing with life, etc, but this book hit me with a new sense of how I have the power to change things within myself by using daily thoughts and prayers to guide me to the accomplishments I deserve and need in my life. If anyone is needing and wanting to have a sense of guidance and outlook on their personal life, this book is a must! This is a book that will be in your heart and mind forever!"
— Jennifer Mickey, Chicago